M.I.C.E Programs
During last years, the number of luxury hotels in Jordan has increased, which makes Jordan one of the popular destinations for Meetings Incentives Conferences Events (M.I.C.E.) programs. All hotels provide fully equipped rooms for conferences and banquets with the specialized services.
Jordan is an ideal place for M.I.C.E. programs due to the mild climate all over the year. Whether you are planning to have dinner under an open sky in Wadi Rum desert or a unique barbeque party on the Dead Sea shore. With JTC, it is guaranteed to have wonderful and unforgettable memories.

Conferences
Zara Conference Center in Amman and the Royal Convention Center at the Dead Sea are special places for such events providing all conferences facilities for large number of people at International standards.
Royal Conventional Center - King Hussein Bin Talal Convention Center is a unique fully equipped conference center that offers state of the art facilities in the Dead Sea to accommodate international and local events. The center offers superior food and beverage services, from light breakfast snacks to reception and full-service meals.

It is surrounded by excellent 5* hotels and has easy access to Dead Sea. It is also situated in 45 min distance from Amman where guests can be also accommodated in 5* luxury hotels.
With 25 fully equipped conference and meeting halls that vary in size and capacity, the center is able to accommodate numerous events with different requirements simultaneously, therefore the center targets all M.I.C.E. sub segments, including:
International conferences with an expected 3,000+ guests per event, such as the World Economic Forum, the International Monetary Fund, United Nations, World Bank, International Conventions, and other economic, political, financial, professional organizations and social international events;
Regional conferences with an expected 1,000+ guests per event, such as the Arab Labor Union and Arab Ministers of Interior;
Local conferences with an expected 500+ guests per event, such as local professional associations and governmental organizations;
Workshops and meetings with an expected 50+ guests per event, such as corporate annual board meetings and training sessions;
Exhibitions with exhibition area of 2,000 sqm, such as the Rebuild Iraq Expo;
Social events with an expected 500 guests per event, such as weddings and private parties.

Architecture: true expression of a unique identity
The KHBTCC's design is based on a pattern that is very similar to the design and architecture of the surrounding hotels and resorts, which integrates perfectly with the surrounding. Such concept brings out similar color that is related to the history and special characteristics of the Dead Sea area. The building's architecture involves touches of the Islamic design and heritage as well as the special design feature of the area.
Main Building


| | |
| --- | --- |
| Services | Built Up Area (m2) |
| Sea Floor | 7,683 |
| Ground Floor | 9,467 |
| First Floor | 3,220 |
| Second Floor | 632 |
| Total | 21,002 |

Services and Utilities


| | |
| --- | --- |
| Services | Built Up Area (m2) |
| Services Trench | 603 |
| Services Plant Room | 2,063 |
| Main & Pedestrians Gates | 332 |
| Total | 2,998 |

Zara Expo Amman Exhibition
Another ideal place for conferences is Zara Expo Amman Exhibition and Conference Center. Situated in the heart of the kingdom's capital city Amman, it provides the ideal venue for exhibitions, conferences and international meetings of all kinds.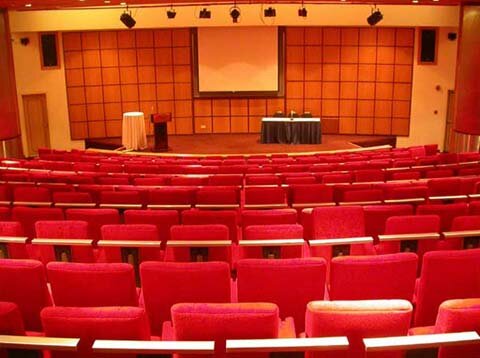 The center has several large exhibition halls and a luxurious 303 seat raked Conference Auditorium which can be used as a main conference auditorium, theatre, concert hall, and cinema or lecture hall.
In addition there is a complete range of meeting rooms close to the main auditorium which can be utilized as press offices, VIP rooms, etc.