Dead Sea Guide
About Jordan :: Map & Sites :: Tourist Guide :: Airports & Borders :: Dead Sea Guide :: Diving at Aqaba
About Dead Sea :: Dead Sea Medical Center :: Zara Spa - Dead Sea :: Dead Sea Hotels

The Dead Sea: The Lowest Point on the surface of Earth. As the name suggests, this sea is devoid of life due to an extremely high content of salts and minerals. But it is these natural elements which give the waters their curative powers, recognized since the days of Herod the Great, more than 2000 years ago.

It is at 400 meters below sea level - the lowest body of water on earth. Surrounded by arid hills, as devoid of life as the sea itself, it glistens under a burning sun with barely a ripple disturbing its surface. The rocks that meet its lapping edges become covered with a snow-like thick gleaming deposit of white salt. This extremely high concentration of salt is what gives its waters the renowned therapeutic qualities and its buoyancy. Because the salt content is eight times that of most world's oceans, you can float in the Dead Sea without even trying. Swimming in it is a truly unique experience not to be missed.
Arabs call it the Sea of Lot (the profit) or some times the Stinky Lake in conjunction with mineral smell that cannot be avoided once you are there. Throughout the history the Dead Sea was linked to famous personalities like King David, King Herod, Jesus Christ & John the Baptist. It is said that the Egyptian Queen Cleopatra had some factories there for manufacturing of cosmetics and pharmaceuticals. Also the Arab Nabataeans used to supply Egyptian with bitumen, which was essential factor for mummification for Pharos of Egypt.
In days of old, Dead Sea water and salt were imported to Italy by Roman nobles. Asphalt, the bituminous substance rising to the surface of the lake, was used for many industrial and medicinal purposes. Plants growing in lakeside oases, especially the balsam tree, produced valuable and highly sought-after cosmetics, perfumes and medicinal substances. Their value were of such great economic importance for wars that were fought for their possession, as when Mark Anthony conquered the Dead Sea area for Cleopatra.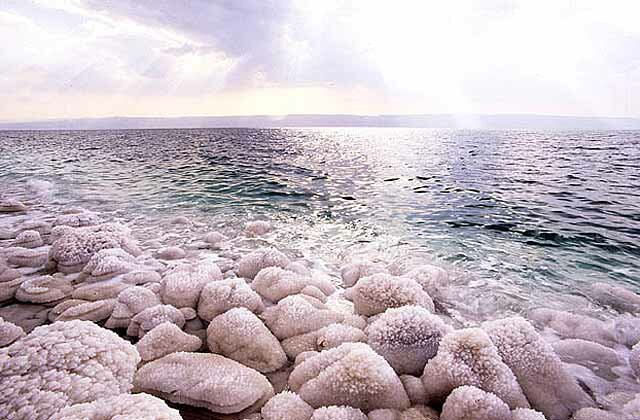 Today, the Dead Sea Works is a major industrial complex which for many decades has extracted potash, bromine and other chemicals for worldwide exports.
The Dead Sea region is also an ideal base for tourism. Travel distances are short, with Amman only an hour's drive, and Amman airport (50 minutes driving time).
In recent years, the Dead Sea area has become a health, rehabilitation, recreation and beauty spa. The combination of the year-round favorable climate, the thriving health and beauty centers, and the unique natural and historical tourist attractions, attract both vacationers and health-cure visitors from around the world. Modern facilities and hotels line the shore.
The Dead Sea itself is flanked by mountains to the east and rolling hills of Jerusalem to the west, giving it an almost other - worldly beauty. Although sparsely populated and serenely quiet now, the area is believed to be home to five Biblical cities: Sodom, Gomorrah, Adman, Zebouin and Zoar.